Erosion control blanket is a preformed protective blanket of plastic fibers, straw or other plant residue designed to protect soil from the impact of precipitation and overland flow, and retain moisture to facilitate establishment of vegetation. DX2 offers a full range of biodegradble blankets i.e. Straw, Curlex Wood Excelsior, Jute, Coir to permanent TRMs.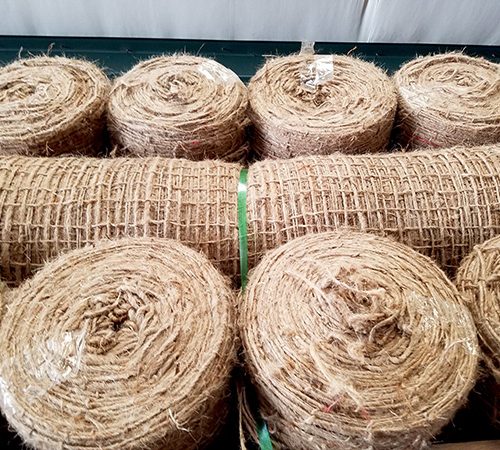 DX2's Erosion Control Blankets
An erosion control blanket is laid flat over the desired landscape in order to protect the underlying soil from the effects of precipitation and overland flow. The blanket is made of fibrous material, such as plastic threads, straw or other plant product that retains moisture and encourages vegetation growth which further roots the soil in place. While many people see construction as a scourge to the environment, DX2 aims to limit negative environmental impacts by controlling erosion. We offer a full collection of erosion control blankets ranging from temporary, biodegradable materials like Curlex, Straw, Coconut husks, Coir and Jute to permanent Turf Reinforced Mats.
About AEC Curlex Blankets
Curlex blankets are made of interlocking natural Aspen wood fibers. They are weed seed free to curb unwanted, aggressive plant growth and color-coded as to the longevity of the blanket. This easy identification system also corresponds to the recommended job site, environmentally sensitive options and strengthened netting varieties. With so many customizable options, Curlex blankets are ideal for golf courses, urban settings, roadside construction and so much more.
These degradable erosion control blankets consist of lightweight and easily managed straw fibers. An ideal basic blanket option, Premier Straw blankets are made of high-end materials that hold up in everyday situations. For basic erosion control needs, stabilize soil and encourage germination with these natural and reliable straw fiber blankets.
About AEC Premier Straw/Coconut and AEC Premier Coconut
Coconut husk fibers last longer than straw fibers, so if your project requires long-lasting, degradable erosion control, consider these weed seed free blankets. Depending on the desired longevity, 30% of the Premier Straw blanket can be supplemented with coconut husk fibers to increase the lifespan by 24 months. These flexible options allow you to choose the perfect blanket for your project's exact time span.
About Coir Mat 700 and 900
The Coir Mats are designed to promote plant growth and increase vegetation. The 100% hand-spun yarns are also 100% biodegradable. This blanket will protect the soil against erosion until the landscape is able to develop the necessary plant life to sustain it permanently. Newly sprouted vegetation will root the soil in place long after the Coir Mat has degraded.
Another option for increased vegetation is the Jute Mat. Like the Coir Mat, it is 100% biodegradable. However, jute fibers specialize in retaining the soil's moisture while still protecting it from harmful precipitation and overland flow. This option lasts six months and promotes speedy vegetation growth with a moisture rich, yet stable environment.
About Turf Reinforced Mats
Both the TRM PP510 and Excel PP5-10 Turf Reinforcement Mats are made of 100% synthetic materials, allowing them to stand the test of time. Best for sloping landscapes or cut banks, the turf blankets provide instant erosion control while also reinforcing soil in the long term. Turf Reinforced Mats are ideal for job sites undergoing continuous erosion. The TRM is a heavy duty option ideal for demanding development projects that require three or more years of intense erosion control.