A geomembrane is very low permeability synthetic membrane liner or barrier used with any geotechnical engineering related material so as to control fluid (or gas) migration in a human-made project, structure, or system. DX2 offers HDPE, LLDPE, XR5 and Bentomat GCL Liners. DX2's professional liner crews are equipped with state of the art equipment and maintains a strict quality control program to perform all liner installations and repairs.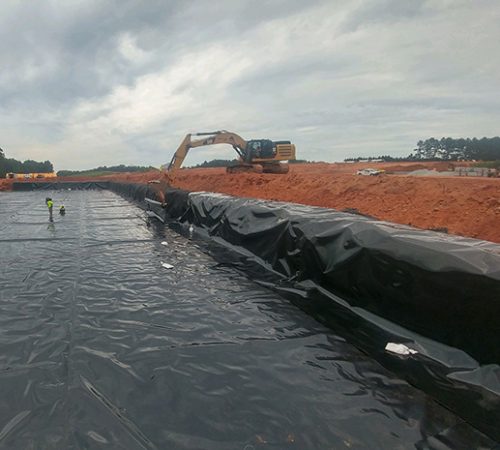 We Install the Geomembrane Liners and the GCL Liners
We install HDPE Geomembrane Liners and GCL Liners. A geomembrane liner is a barrier that allows a meager amount of liquid or gas to pass through. The liner holds substances to the space provided for them. HDPE (High Density Polyethylene) is manufactured smooth or textured depending on the application. This material has to be heat seamed together by means of wedge or extrusion welding by a certified installer. A GCL (Geosynthetic Clay Liner) is a factory-made hydraulic barrier that is an alternative to a traditional compacted clay liner that was regularly utilized in the past and commonly used in environmental containment applications. It protects a site from contaminants present in soil or groundwater. The barrier has a layer of bentonite, an absorbent clay formed by the breakdown of volcanic ash. Advantages over compacted clay include self-healing and self-seaming properties, better hydraulic performance, resistance to extreme weather conditions, ease of installation, and increased air space. One of the specific products we provide may be what you need.
Quality Products With Quality Installation
DX2 provides HDPE, LLDPE, XR5, and Bentomat GCL liners. Our professional and experienced line crews come prepared with state of the art equipment. They will ensure that the job gets done to the highest standards and maintain a strict quality control program to perform all liner installations and repairs with the highest quality and dependability.
HDPE Smooth Liners are a reliable and essential geomembrane with more than 20 years of proven performance. This smooth liner is both sturdy and flexible, and the chemically resistant material provides consistent thickness. The HDPE smooth liner delivers optimum weld speed and weld quality in the field.
About HDPE Textured Liner
The HDPE Textured Liner is the material of choice in containment applications where slope stability is critical. It is available in different thicknesses. HDPE gets made from high-quality resin formulated for flexible geomembranes. It then gets applied in areas that need increased friction resistance, chemical resistance, and lasting endurance.
LLDPE Liners are available in 20 mil, 30mil and 40 mil, which have excellent flexibility and will conform to any irregular surfaces. It has an excellent durability record, high impact strength, and is tear-resistant. LLDPE arrives at a job site in large rolls and then gets applied using machines. This material gets used for containment applications that need flexible and elongating performance. Common applications for LLDPE Liners are effluent ponds, exposed ponds, stormwater collection ponds, and wastewater.