Woven Geotextiles i.e. Mirafi 500-X, 600-X, HP-370, HP-570, RS580I etc. are used for separation and stabilization over moderate subgrades where coarse, angular, and abrasive material is required. Applications include separation and stabilization under parking lots, residential streets, and roadways.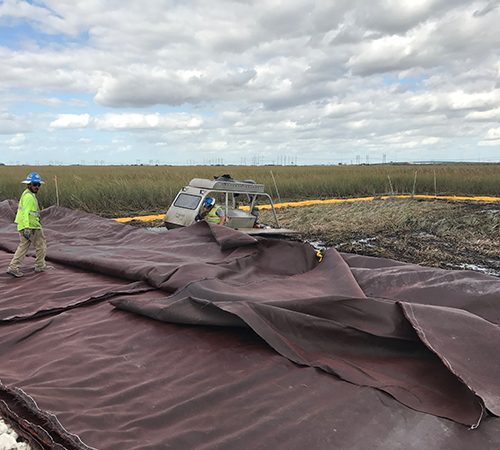 DX2's Range of Woven Geotextiles
Woven Geotextiles are synthetic fabrics that both separate and reinforce leveled ground prior to construction. Separation is necessary when your project requires rocky, jagged or harsh materials such as gravel in order to retain the structural integrity of the base. By separating granular materials, the geotextile is actually seamlessly integrating the different layers and increasing the strength of the subgrade. A woven geotextile will also aid in filtration and reinforce the foundation. The fabric is designed to curb the negative effects of erosion and flooding by allowing the layers to drain excess water. DX2 offers a variety of woven geotextiles, each with their own unique properties to fit your project's needs exactly. The recommended applications include: the base of parking lots, residential streets and roadways.
The FW-series was designed to properly filter a subgrade prone to clogging. This series is engineered to keep soil in place and aid in drainage. If you need a long-term solution for a landscape at risk of eroding or flooding, the specially designed materials of the FW-Series is the best solution. The unique water controlling abilities of this series will improve projects in wet climates or near water. There is no other geotextile, woven or non-woven, capable of the same hydraulic feats.
About Mirafi® HP- and RSi-Series
Particularly loose or soft foundations require more supportive geotextiles. The HP- and RSi-Series are engineered to reinforce subgrades in danger of degrading overtime. The materials are adaptable to many different landscapes and constructed of premium quality material that you can rely on. Stabilize weak ground, soggy banks and hazardous terrain for road, railway or bridge construction. Mechanically stabilized earth (MSE) structures will also benefit from this series' superior strength and flexibility. The HP and RSi options have differing properties to fulfill a wide variety of subgrade types.
The HP Series are woven using a unique pattern that is designed to separate materials. The effective separation results in improved filtering and draining abilities in a previously clogged area.
The RSi Series will reinforce subgrades by retaining soil and controlling water flow. It is a tough product that incorporates strength, filtration, greater weight distribution and durability into one geotextile. It is also available in a variety of sizes to suit any job site.
Mirafi® X-Series 500X and 600X
This series performs best in dry areas. The X-Series has impressive resistance to punctures and installation damage in dry, abrasive environments. This is an economical choice with excellent chemical stability and resilience to benefit a number of paving projects.
The Mirafi® 500X is ideal for projects with less demanding subgrades. If the job site is stable on its own, the 500X will simply separate the materials providing improved drainage. This series is perfect for the construction of parking lots, roads and streets.
The Mirafi® 600X can handle more moderate subgrades and more course bases. When a project requires reinforcement and separation, 600X will do the job. The thicker material will strengthen the base while still allowing for filtration.